Debt Protection Brochure
Safeguard What Matters With Debt Protection.
Life Is Unpredictable
There are a wide range of unexpected events that could leave you and your family scrambling to pay monthly bills. That's why it is important you take action to safeguard your family against these types of events to help ensure loan payments can be made on time. That's where First Heritage Federal Credit Union Debt Protection comes in.
Under the Debt Protection program, your loan balance may be canceled, or your monthly loan payments canceled, without penalty or added interest. You benefit from the peace of mind knowing you and your credit rating are protected-and most importantly-that your family is protected. 
Availability and Plan Options
Debt Protection is available for closed-end consumer loans, consumer line of credit, credit cards, closed-end home equity loans (i.e., second mortgages) with terms of more than 120 months, and home equity loans. Choose from the plan options listed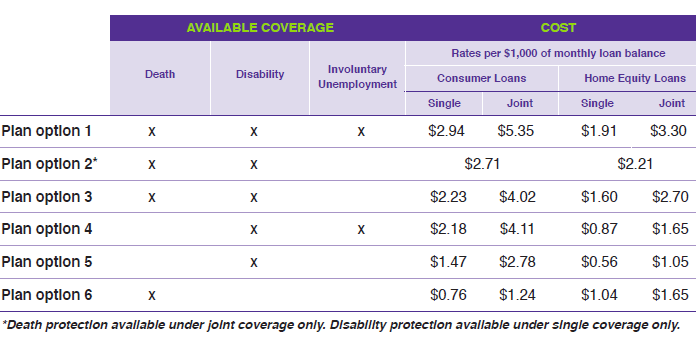 Definitions of Coverage
If you meet eligibility requirements and conditions, Debt Protection will provide the following benefits:
Death: Helps your family get back on their feet financially with the cancellation of your loan
Plans 1, 2, 3 & 6: Cancels the remaining loan balance as of date of death (up to $75,000)
Disability: Cancels your loan payments for a period of time as you regain your health
Plans 1, 2, 3, 4 & 5: Cancels up to 12 payments per occurrence (aggregate maximum of $15,000, up to $1,000 per month)
Involuntary Unemployment: Helps ensure your loan payment will be taken care of as you search for new employment.
Plans 1 & 4: Cancels up to 3 payments per occurrence (aggregate maximum $15,000, up to $1000 per month)


Designed With You in Mind
More than ever, we all worry about things that might happen tomorrow. Debt Protection provides an important sense of financial security-knowing your loan will not become a burden to you in times of hardship. 
Cancel At Any Time
You may cancel Debt Protection at any time. If you do so within the first 30 days, we will refund any fees already paid.