Online/Mobile Banking
Check balances, transfer funds, pay bill, deposit checks and so much more with online and mobile banking.
A Better Online Banking Experience
Our new online banking platform mirrors our current mobile banking app and includes many enhancements such as a new look and improved navigation, card management, and a new conversations tool to easily communicate with a member service representative.
How To Set Up Multi-factor Authentication:
Turn Your Mobile Phone into a Mobile Branch 
---
Features:
View account balances
View Pending Deposits and Transactions
Searchable Transaction History
Easily Transfer Funds Between Accounts
Transfer Funds to Members
Fast Secure 4-digit Pin Login
Touch/Face ID Login 
Push Notifications and Deposit Alerts
View and Enroll in eStatements
Need assistance with online banking? Schedule an appoint today so we can help!
Improved Security
When accessing the app for the first time (or any time you complete a FULL sign out or sign in on a new device), you will be required to set-up your personal information for security purposes. During this set-up you will be asked to provide your mobile phone number. You will then receive a verification code via text message that must be entered in order to gain access to your account. Members can choose to "remember this device" to avoid receiving a verification code upon each login to that device.
For members who share their account and login credentials with another individual (child, spouse, etc.):
Only ONE phone number will be obtained per account. If there is another individual on your account and they login FIRST entering THEIR phone number, THEIR phone number will be the one on file for your account going forward.
What does this mean for you? When you complete your initial login you will be required to enter a verification code. Since the other individual completed their initial login before you and entered their phone number, your verification code will be sent to THEIR phone number. It is important that you are in contact with this person in order to obtain the verification code for you to complete your initial login. After completing your initial login and set-up you can log in simply using your personal 4-digit passcode or Touch/Face ID. The only instance a verification code is required is when you are logging in for the first time using the new app or any time you complete a FULL sign out (using the sign out option located within the menu, which is NOT necessary).

"Checking my accounts, transferring money or depositing a check is fast and easy."

"Online banking is very user friendly.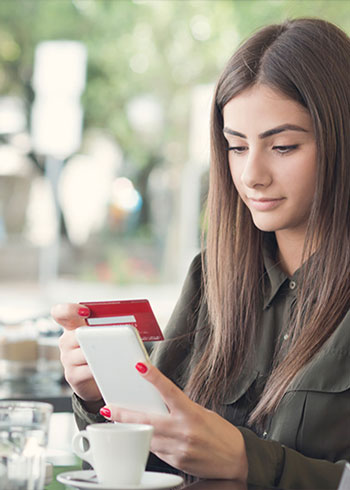 MOBILE AND ONLINE BANKING
Segmint Marketing Snippet